15% OFF FIRST ORDERS OVER £35 FOR MEMBERS OF THE IBS NETWORK
5th December 2022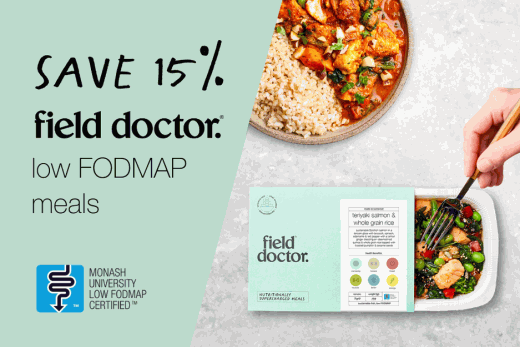 Fall in love with food again with Field Doctor low FODMAP meals
Eat a Ready Meal? Living with IBS? You Can with Field Doctor's low FODMAP meals.
Field Doctor are offering an exclusive 15% off on first orders over £35 for paying members of The IBS Network on their low FODMAP ready meal range.
Field Doctor makes delicious, nutritionally supercharged frozen meals that are planet friendly, and deliver them directly to your door.
Out of their current range of meals, 25 meals are suitable for anyone following the low FODMAP diet and are Monash University low FODMAP certifiedTM.
Each meal has been carefully created by registered dietitian Sasha Watkins and Michelin trained chef Matt Williamson to taste great and make you feel better, inside, and out.
If you are a member of The IBS Network and would like to take advantage of the offer, please email info@theibsnetwork.org now for the discount code.
Please see here for terms and conditions
For the range of Low FODMAP meals take a look on the shop
Find out more at FieldDoctor.co.uk