15% off the Aflorex New Beginnings
1st November 2021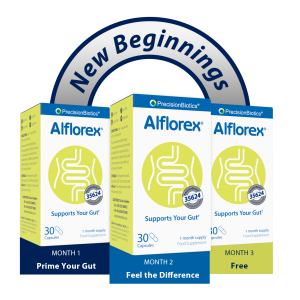 Members only offers- for a limited time only. (1st November 2021 - 30th January 2022)
15% off the Alflorex New Beginnings Programme for members of The IBS Network.
With over 20 years researching gut health and the human microbiome, PrecisionBiotics® have launched Alflorex New Beginnings to help people struggling with poor gut health.
New Beginnings is a 12-week Alflorex gut health programme supported by a team of experts to help members every step of the way. The programme includes weekly tips, recipes, nutritional advice, monthly check ins and personalised guidance from gut health advisers.
What's more, PrecisionBiotics are so confident they can help, that if you're not entirely satisfied with the results after completing the 12-week programme, they will give you your money back.
If you are a member of The IBS Network and would like to take advantage of the offer, please email info@theibsnetwork.org now for the special offer link and discount code.
The 12-week programme costs £49.95.
As part of New Beginnings, you will receive a three-month supply of Alflorex for the price of two, plus free:
Buy a two-month supply of Alflorex and receive the third month free, saving you £24.95.
Plus, you'll also receive the following:
weekly tips and guidance from our team of experts,
gut-friendly recipes and nutrition advice from our specialist dietitians and nutritionists,
one-to-one advice from our gut-health advisors, when you need it,
a monthly check-in to make sure you're on track, and
an exclusive two-month trial of The IBS Network's online symptom tracker.
If you're not entirely satisfied with the results after completing the 12-week programme, we'll give you your money back. Terms & Conditions apply.
So, what have you got to lose? Select your preferred Alflorex product (blister pack, tube or chewable) and let's get started.
More information on the programme is available here.
Product details
GLUTEN FREE * DAIRY FREE * SOYA FREE * VEGETARIAN
Can be used as part of a healthy lifestyle
Suitable for those on a low FODMAP diet
Doesn't need to be refrigerated