20% off Bimuno Daily single packs for members of The IBS Network
4th April 2022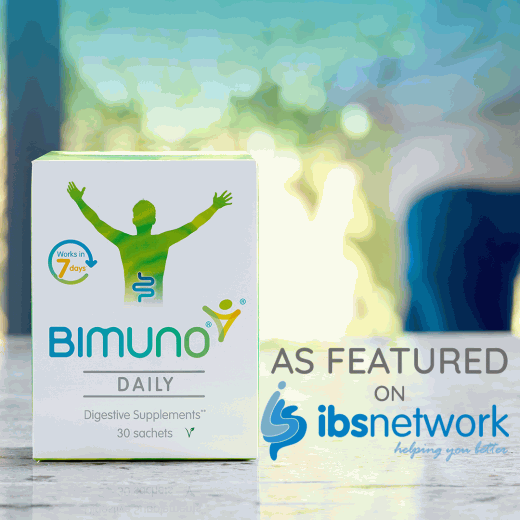 Offer starts Monday 4th April-Thursday 30th June 2022
Start your journey to better gut health today.
Members of The IBS Network can receive 20% off Bimuno Daily single packs.
We're working with Clasado, the makers of Bimuno Daily, to offer members a discount on Bimuno Daily single packs until June 2022.
Bimuno Daily is a prebiotic supplement designed to make everyday gut health simple. Easily incorporated into your daily routine, Bimuno's taste-free, soluble powder can be added to any food or drink without altering the taste. It is gluten free and suitable for vegetarians.
The convenient daily sachets provide an easy way to increase levels of good bacteria in your gut, helping balance your overall health and wellbeing in just 7 days*.
The discount can only be used once per household. It is open to all members of The IBS Network playing a one-off payment of £24 or £34 for one year's membership.
If you are a member of The IBS Network and would like to take advantage of the offer, please email info@theibsnetwork.org now for the discount code.
If you are not yet a member and would like to join, you can do that here
Full terms and conditions available
For further information and questions about Bimuno please visit Frequently Asked Questions | Gut Health & Taking Bimuno | Bimuno or contact ttps://www.bimuno.com/help/contact-us
*Scientific data shows that daily use of Bimuno increases Bifidobacterial levels within 7 days, results may vary.