Are you looking to become a trustee?
15th May 2019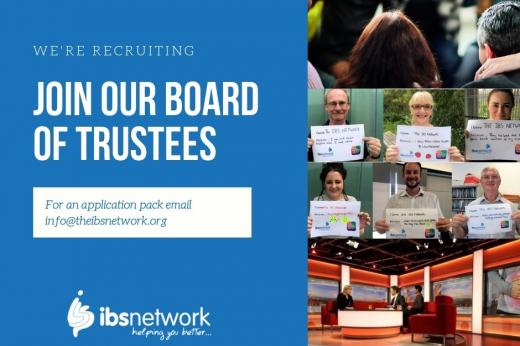 We wish to recruit trustees to be part of the national charity helping people to live well with IBS.
We are looking for people with senior level leadership skills; business development skills; and enthusiasm to work alongside people with the condition and healthcare professionals.
Irritable Bowel Syndrome is a long-term illness which affects around 12 million people in the UK. Symptoms include abdominal pain, bloating, constipation and diarrhoea. IBS is different for each individual and can be triggered by food, stress and anxiety.
We welcome applicants who have worked at a senior management level in the third sector, public services or commercial organisations. Some knowledge of healthcare and IBS would be useful but is not essential.
Trustee meetings are held bi-monthly in Sheffield. This is a voluntary position but expenses will be fully reimbursed.
We are looking for leading professionals with the time and commitment to work with us to drive the charity forward. If you feel you have the skill and expertise we need please get in touch.
For more information and an application pack email info@theibsnetwork.org
The closing date for applications is Monday 10 June at midday.