Bimuno Offer
1st April 2019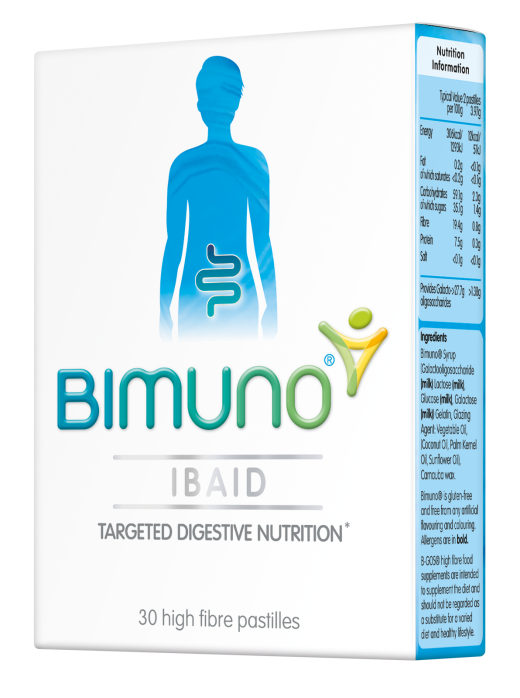 New and Renewing Members Offer! (Offer now finished)
Join The IBS Network now or renew your membership and Bimuno will give you two weeks supply of their product IBAID (worth £11.99), completely FREE.
To qualify for this fantastic offer, become a member or renew your membership of The IBS Network for one year (cost from £24).
The IBS Network supports you in understanding and managing your symptoms and helps you live better with IBS
Bimuno explains more about IBAID
Bimuno IBAID is a daily supplement that reaches your gut intact. When taken, it feeds the friendly bacteria that live in your digestive system and helps increase their numbers.
To find out further about the product please visit https://www.bimuno.com/bimuno-ibaid
What to do to receive your free two week supply of IBAID
Join or renew membership to The IBS Network paying for one full year from £24
When The IBS Network has processed your application they will send you, BY SECOND CLASS POST, your Welcome Pack which will include your unique Bimuno code.
When you receive your unique Bimuno code from The IBS Network go to www.bimuno.com/theibsnetwork and enter your details including your code.
Bimuno, makers of IBAID, will then directly send you two weeks supply of IBAID (30 pastilles).
Bimuno terms and conditions
Open an account at www.bimuno.com/theibsnetwork
Only valid for one pack of IBAID, (30 pastilles)
This offer is open to UK delivery only
Offers may be changed or withdrawn at any time without prior notice
This offer is only open to UK new and returning members of The IBS Network
Code must be redeemed by 30th April 2019