Christmas opening hours
13th December 2021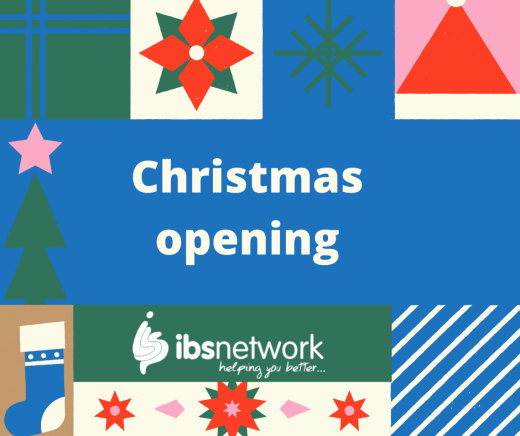 The IBS Network telephone helpline
Christmas can be a difficult time for people living with IBS. To help members of our network to better manage their IBS, our IBS helpline will be open on:
Tuesday 21 December, 7pm-9pm
Wednesday 22 December, 7pm-9pm
Thursday 23 December, 7pm-9pm
Wednesday 29 December, 7pm-9pm
Thursday 30 December, 7pm-9pm
Office opening
The IBS Network will close at 3pm on Christmas Eve and reopen on Wednesday 29 December at 9am.
We will close on Friday 31 December and reopen on Tuesday 4 January 2022.
Orders in our shop
If you would like to order your IBS supplies before Christmas, please order as soon as possible, and definitely before Friday 17 December 2021. We process the orders the same day Monday to Friday during office hours 9am-4.30pm but can't guarantee you will receive your order before Christmas.
Any orders placed in our online shop during the Christmas period will be processed during our office opening times. We send out all deliveries second class.