Free four-week Symprove offer ending soon
11th February 2022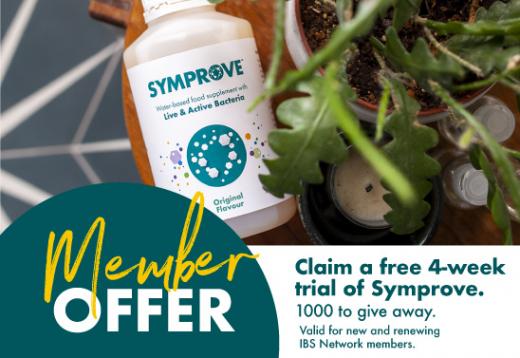 Free four-week Symprove offer ending soon.
Symprove are offering members of The IBS Network (new or renewing) a FREE four-week trial of their live and active bacteria supplement. But this offer is ending soon!
You have until 11 February 2022 at 12-noon to take advantage of this offer. Don't miss out!
If you joined or renewed your membership to The IBS Network from 1 June 2021 to 11 February 2022, don't forget to claim your FREE four-week trial. Claims after this date will not be accepted.
Here's how to claim your FREE Symprove
Once you have renewed your membership, an email will be sent to you within 24 hours or the next working day with all the details of how to claim the offer direct from Symprove. To renew your membership, log into your account with your membership details. Click on MY ACCOUNT. Then click on RENEW MY MEMBERSHIP. This will then take you to the payment page.
If you have signed up to The IBS Network as a new member, a link to claim your free trial will be sent to you in your welcome pack via 2nd class post. You can join The IBS Network here.
If you are already a member, please check the correspondence you have received from us. This includes details of how to claim the Symprove offer directly from the manufacturer. If you have already claimed this offer, you cannot claim it again.
The offer is available to all new and renewing members paying a one-off payment of £24 or £34 for one year's membership.