Join Team IBS in our 2.6 Challenge and be a home hero
28th April 2020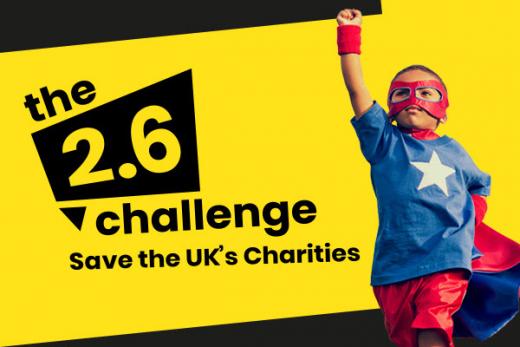 The IBS Network is joining forces with the rest of the charity sector for the 2.6 Challenge and we'd love you to be part of it too.
The 2.6 Challenge is a fundraising event like no other. Join the nation with your own unique 2.6 or 26 themed challenges from Sunday 26 April.
With the outbreak of coronavirus, many fundraising events have been postponed, leading to a huge drop in donations for charities like The IBS Network.
For people like Jeff Finnie, who has been forced to abandon his challenge of running 20 half marathons and two marathons in 2020 to raise money to help people with IBS, it is disappointing that all his hard work has ended in this way.
It's also not good news for charities like The IBS Network, who will see a considerable drop in the donations and income these events bring to the charity. The team is primarily concerned about the impact this will have for the people living with IBS who depend on our continuing support.
The good news is that with your help we can keep being there for everyone living with IBS.
Getting involved is simple:
Create your unique challenge based around the numbers 2.6 or 26. Have fun, get creative, you can do almost anything so long as hit those magic numbers.
Set up a Total Giving page to collect sponsorships. https://www.totalgiving.co.uk/
Tell your family, friends and loved ones and get ready to take on your challenge on 26 April.
Enjoy the challenge and become a home hero!
It's all about 2 and 6.
Here's what The IBS Network team is doing:
Communications manager, Liz is running at least 2.6 miles a day from 26 April until 26 May.
CEO Alison is walking 2.6 miles every other day and ensuring she spends at least 26 minutes every day keeping in contact with friends and family
And Jeff Finnie is making sure his marathon training goes to use by running 2.6 miles every day for a month alongside continuing his job as a key worker.
We'd love you to be part of Team IBS.
There are no rules, except to exercise safely and in line with government guidelines during this time.
Help to inspire the nation by sharing your pictures or videos on social media using the official hashtag #TwoPointSixChallenge. Don't forget to tag The IBS Network so we can see and share them too.
During this uncertain time your generosity is continuing to make such a difference to The IBS Network community. Thank you for all your support.
If you think it sounds like a lot of effort? Just make a donation to us directly here! From £2.60 to £26, whatever you can afford, will help make a difference to people living with IBS. Your support is needed now more than ever. Donate here.
If you need us, we are here.
The IBS Network team