Lorna's Story
10th June 2019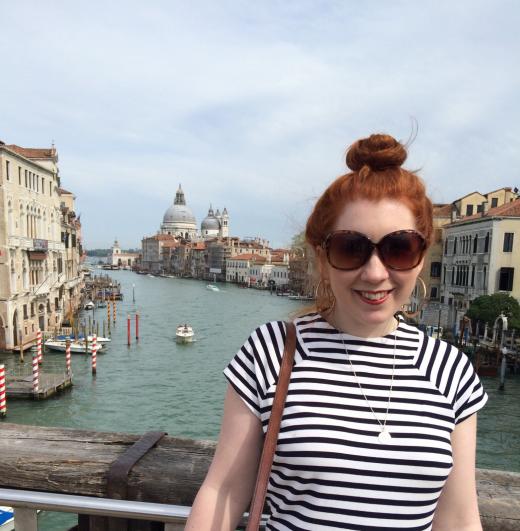 Lorna Goudie was diagnosed with IBS after contracting gastroenteritis while on holiday in 2007. The diagnosis changed her life, affecting her love of travel and causing a lot of anxiety. Twelve years on Lorna is now managing her IBS and supporting others with the condition through her monthly IBS support group in Liverpool.
When I was 20 and in my second year of university, I went on holiday to Salamanca in Spain with my best friend. The trip involved a flight from Manchester to Bilbao followed by a six-hour coach journey to our destination. I wasn't feeling great the day of the flight so I packed some Imodium, and hoped for the best.
I was okay until we were just about to board the coach. A cup of coffee and a croissant sent me rushing to the toilet. I had to take up temporary residence in the coach station's shabby toilets as I alternated between vomiting and diarrhoea.
Somehow, and I'm not sure how, I managed to board the coach and make it to Salamanca where I spent most of the holiday suffering from gastroenteritis. It wasn't until I was back home in Liverpool that I started to recover.
After that incident I began to experience IBS symptoms. I now realise that IBS often originates with a bad episode of gastroenteritis, and believe that this was the case for me. On returning from that trip my attitude to travel distinctly changed, and not being able to access a toilet in time became a very real fear and still is.
Following the holiday I decided not to go to my best friend's 21st birthday night out, all because it meant going on a minibus for some 40 miles. What if I had an accident? What if I felt unwell and couldn't get home? Even now, I choose to drive myself to restaurants, events and work events, preferring to meet friends, family and colleagues at the destination so that if I need to divert to use a toilet I won't feel the need to explain myself.
I still travel abroad but again prefer to do this alone so that I can control my schedule without seeming like a control freak and can adapt plans to suit how I'm feeling on the day. Queuing to board the plane will have me repeatedly running to the toilet before finally taking some Imodium Instants in anticipation of the agonising wait for the plane to take off, feeling trapped in my seat with the seatbelt signs on.
Apart from my travel anxiety I do maintain a good social life with friends on home turf who understand my issues and are happy to let me sit on the aisle at the cinema, theatre and football matches. However, there are always occasions where my anxiety surrounding my IBS causes me to turn down an invitation or feel the need to explain myself about concerns over where the nearest toilet is. To help with the anxiety side of my IBS I attend yoga twice a week and I'm about to start Cognitive Behavioural Therapy (CBT).
My other symptoms include bloating, diarrhoea, cramping and fatigue. I have fortunately reduced these greatly, thanks to identifying food triggers and adapting my diet. I now take a prebiotic daily and no longer eat onions and garlic.
Consequently most of my food is cooked from scratch as I prefer to know exactly what's in it. I replaced milk with coconut milk after I identified this as a potential problem and yet I can still eat plenty of cheese. While I wouldn't eat a creamy or rich sauce, I wouldn't hesitate to delve into an afternoon tea. Similarly, I have no problem eating bread, and yet introducing gluten free pasta has removed the heavy feeling I used to experience in my stomach after eating a pasta dish. I find that I can generally enjoy treats on occasion provided that on a routine basis I stick to my 'rules'.
IBS is a truly individual condition and it was only after keeping a food diary, noting bowel movements and recording emotions and stresses that I was able to detect triggers.
Anxiety issues aside, I am presently in a much better place with my IBS than when I was first diagnosed. It is well-managed from a dietary perspective and I'm generally able to recognise my food triggers and moderate my food choices dependant on what I'm going to be doing the next day, how much of an ingredient is present in something, or sometimes how relaxed I'm feeling and whether the 'treat' is worth the risk.
I've really enjoyed becoming more involved with The IBS Network and after attending my first IBS Network conference in 2016 felt like I'd found my people. It gave me the confidence to ask my GP for a referral to confirm my IBS diagnosis, and enabled me to be much more open when discussing my IBS with others. It validated IBS as a real health condition, rather than dismissing it as 'just IBS'.
Two years later in 2018 when attending the second conference, it fast became apparent to me just how far I'd come. I've recently set up an IBS support group in Liverpool in the hope that it will help others with the condition.