Opening hours Monday 19 September 22
19th September 2022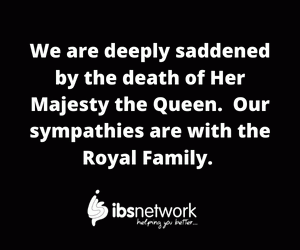 We are deeply saddened by the death of Her Majesty The Queen and, as a mark of respect to her and the Royal Family, will be closing The IBS Network office on Monday 19 September 2022.
For over 70 years, Queen Elizabeth II dedicated herself to serving the nation, showing strength and inspiration to us all in the most difficult of times.
We join the Royal Family, our members and wider IBS community in remembering Her Majesty.
From all of us at The IBS Network