Receive two months of FREE Zenflore
6th October 2020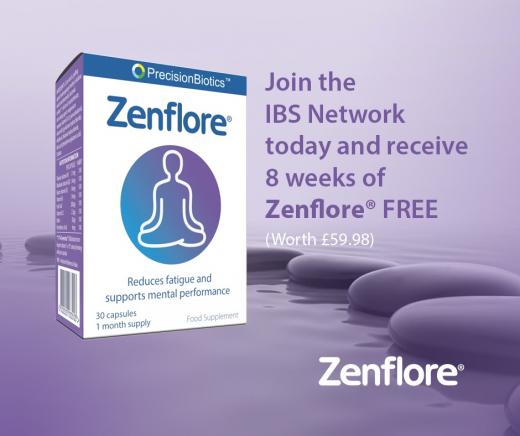 OFFER ENDS FRIDAY 19TH MARCH 2021
The IBS Network has again partnered with PrecisonBiotics to offer two months of FREE Zenflore (worth £59.98) when you join or renew your membership to The IBS Network. Please note: This offer ends on Friday 19 March 2021.
The IBS Network is the national charity helping people to live well with irritable bowel syndrome, a long-term condition which affects around 12 million people in the UK. Symptoms include abdominal pain, bloating, constipation and diarrhoea. IBS is different for each individual and can be triggered by food, stress and anxiety.
Zenflore includes the live 1714-Serenitas culture and specially selected B vitamins, which help to reduce fatigue and support your mind and body during busy and demanding times.
Join The IBS Network today from £24 per year and receive two consecutive months of FREE Zenflore (worth £59.98). The offer is limited to the first 2000 new or renewing members.
This offer is open to all new and renewing members paying a one-off payment of £24 or £34 for one year's membership.
JOIN OR RENEW YOUR MEMBERSHIP HERE.
Once you have joined, a welcome pack will be posted to you with details of how to claim the offer. Renewing members will receive details by email. After the first month, you will be asked to take part in a short telephone survey about your experience of using Zenflore. Your second month's supply will then be sent to you. Terms and conditions are available here.
Join or renew your membership here.
Read more about Zenflore in our blog post here.