SPECIAL OFFER FOR MEMBERS OF THE IBS NETWORK
5th November 2019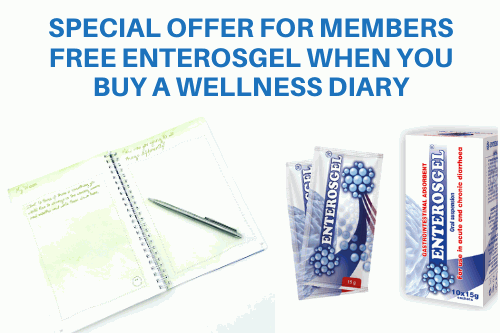 This month we've got an exciting offer just for members of The IBS Network. Purchase a wellness diary for £7.25 (including free postage) and get a free pack of ENTEROSGEL.
The 12-week wellness diary is designed to help you understand your symptoms better. You can note what you are eating and how you are feeling. You will be able to plan your weekly meals, record what you have eaten and log what has been happening in your life.
Having worked through the diary you will be able to share the information with your healthcare professional and together discuss any patterns that emerge.
ENTEROSGEL is an oral suspension for the symptomatic treatment of acute diarrhoea and chronic IBS diarrhoea. The pack includes 10 x 15g sachets.
We have 100 free samples to give away. The offer is available while stocks last.
Order your wellness diary with FREE ENTEROSGEL here.