Spend £10 or more in The IBS Network shop and receive a FREE pack of Colomint
9th November 2020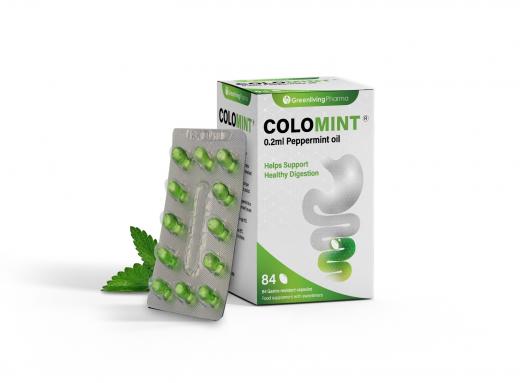 Offer ends 2nd Feb 2022
The IBS Network has partnered with Greenliving Pharma to offer customers a free pack of Colomint peppermint oil capsules when they spend £10 or more in the charity's online shop.
The IBS Network is the national charity helping people to live well with irritable bowel syndrome, a long-term condition which affects around 12 million people in the UK. Symptoms include abdominal pain, bloating, constipation and diarrhoea. IBS is different for each individual and can be triggered by food, stress and anxiety.
Greenliving Pharma is a nutraceutical company committed to producing ethical healthcare products using natural ingredients. The provide food supplements and healthcare solutions to support your wellbeing and promote a healthy balanced lifestyle.
Colomint provides 0.2ml natural peppermint oil which helps to support healthy digestion, as well as helping to eliminate digestive discomfort and the maintenance of normal intestinal transit in a person with sensitive bowels. Each capsule has a gastro-resistant coating to ensure the oil reaches the gut intact where it's needed most. Colomint is free from all allergens and is Halal certified.
The IBS Network CEO, Alison Reid, said, "We are very excited to be working with Greenliving Pharma and being able to offer our community this fabulous opportunity to try Colomint. Peppermint is a tried and tested remedy for some symptoms of IBS and this represents a chance for people to try whilst picking up a bargain!"
Islam Pearson, Greenliving Pharma's Managing Director, said: "The IBS Network is a fantastic charity that helps so many people suffering from the condition. After looking to work with The IBS Network, we were honoured that they chose to align themselves with us, identifying our Colomint product as being so beneficial to those experiencing IBS, as well as recognising our general ethos of creating natural, ethical wellness products, and making these affordable and available to people from all walks of life across the globe."
The capsules are available to buy in our online shop or FREE when you spend £10 or more in The IBS Network shop.