The IBS Network at The Health and Wellbeing Show
3rd March 2022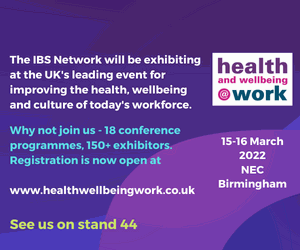 The IBS Network will be exhibiting at the Health and Wellbeing at Work Conference in Birmingham between 15 and 16 March 2022.
IBS is a serious, long-term condition that can cause disability and disrupts the working lives of many. With around 10-20% of the UK population living with IBS, this represents a significant number who are affected in the workplace. It is estimated that Britain's businesses lose almost £3 billion every year through sick days related to gut health.
Due to its sensitive nature, many employees may be too embarrassed to admit to their managers, Occupational Health or HR professionals, that they have IBS, and so face endless obstacles in trying to control their condition at work. Employers may not understand the debilitating effects IBS can have on those with the illness or even know what changes to make to help their employees.
As the national charity supporting people living with IBS, we provide information and advice, working alongside healthcare professionals to help people to live well with IBS.
For employers, we provide practical advice so that they can better support their employees affected by IBS. Understanding the condition, its symptoms, causes and effects can make a big difference in managing IBS in the workplace.
To find out more about how we can help improve the health and wellbeing at work for people with IBS, please meet The IBS Network team at the Health and Wellbeing Show or go to www.theibsnetwork.org