Support Groups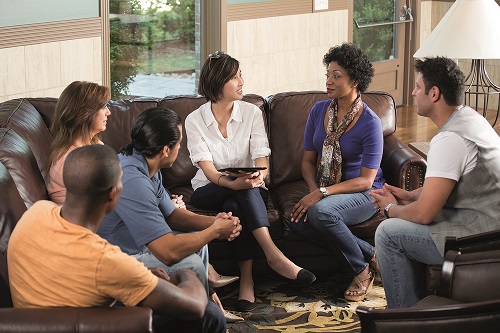 You are not alone with IBS. Millions of people in the UK suffer from IBS and they all struggle to find the best way to manage their symptoms. IBS is a complicated condition. Only by working together and with healthcare professionals can we look to improve our understanding and treatment of IBS.
IBS Support Groups:
Bring IBS sufferers together to share their experience in an open and non judgemental environment.
Educate and inform new members of the key aspects of IBS, what they can do to try and reduce their symptoms.
Your group should not aim to replace healthcare professionals, but can work with them to encourage a culture of self efficacy.
Set up your own support group
Can you be a Support Group Leader? If you are a health care professional with an interest in supporting people with IBS, or you are someone with IBS who wants to help others manage their condition, sign up to this one-day free Group Leader training course. contact sam@theibsnetwork.org for an application form.
Venue: Royal Victoria Hotel, Sheffield, S1 2AU
22 October 2016 10am to 4.30pm
We are planning more training days next year! Courses will be run in Sheffield intially. However if we receive enough interest from other areas these will also be considered.
The dates we will be holding additional training days will be
25th February 2017, 15th July 2017, 18th November 2017.
Despite all the research, IBS is still largely unexplained. There is no distinctive pathology, no clear cause, no diagnostic test and no established treatment. It is an 'individual' illness. Not only is there a diversity of symptoms, but the pattern of the illness, the context and the associations are unique expressions of the personality; diet, life style and what has happened.
In a matter of just a few minutes per appointment, doctors cannot hope to understand the complexity of a person's illness. No wonder patients feel misunderstood.
Self management is the cornerstone of IBS treatment. If patients can share their experience in an open and non-judgemental environment, learn to understand and manage their own illness, and support others who are struggling with their symptoms, IBS ceases to be a threat; they can be in control. But, to be successful, self management needs guidance from trained health care professionals or expert patients.
The IBS Network aims to establish a national network of Support Groups led by trained facilitators. These groups would work alongside existing health services to encourage self efficacy. The one day training will include:
how to set up and run a group
techniques of engagement and active listening
the information people need in order to manage their IBS effectively
how to support and motivate
about raising funds and encouraging local support
what resources are available from The IBS Network
For a draft programme for the day please click here.
This training event is free of charge. We will be providing refreshments and lunch (with IBS friendly foods).
Please contact Sam Yardy as soon as possible, for an application form as places are limited. sam@theibsnetwork.org