Wellness diary
Introducing the Wellness Diary!
To help you understand your symptoms better we have produced a 12 week diary where you can note how you are feeling and what you are eating.
You will be able to plan your weekly meals, record what you have eaten and log what has been happening in your life.
Having worked through the diary you will be able to share the information with your health care professional and together discuss any patterns that emerge.
Limited offer for members only FREE months supply of Alflorex (worth £24.99) with every purchase. 1 per member.
Cost includes postage and packing.
Read More
Compressed mini towels
Compressed cleaning towel Pack of five
• Simply, add water for a quality tissue
• Easy to carry anywhere, pop it in your pocket, its the size of 1p!
Price includes P+P
Compressed mini towels
Compressed cleaning towel Pack of 12
• Simply, add water for a quality tissue
• Easy to carry anywhere, pop it in your pocket, its the size of 1p!
Price includes P+P
Antibacterial hand spray
Over 80 sprays per pen
compact for travel
Includes P+P
Pure handy wipes
Pack of 4, each pack contains 10 wipes
Enriched with aloe vera and chamomile, these cleansing wipes are paraben free.
Includes P+P
Flushable feminine intimate wipes
Safe to use intimate wipe, ideal to carry around.
Pack of 2, 20 wipes in each pack.
Includes P+P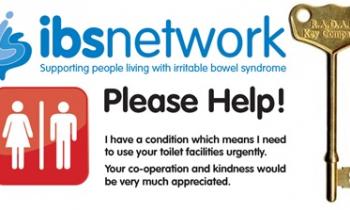 Can't Wait Card (includes international Travel card) and Radar Key
Why not purchase both the Can't Wait Card including international Travel card and radar key
Price includes 2nd class delivery
Can't Wait Card (includes international Travel Card)
Do you ever get caught short? Can you not find a loo when you most urgently need one?
Our 'Can't Wait' card is available to help you gain access to toilet facilities when you need them most. Simply present your card in offices or stores and ask if you can use their toilet. The same size as a bank card, the 'Can't Wait' card can be hidden discreetly in your wallet or purse and can be produced quickly when you are needing access.
Whilst the card is not guaranteed to give you access to toilets, the cards are widely accepted and acknowledged.
We have also produced a international TRAVEL card containing a variety of translations of the 'Can't Wait' message, which can be used to find a loo in countries from Germany to Pakistan. Perfect for travelling or taking on your holiday! Be sure to pack yours this summer.
Purchase your 'Can't Wait' card and travel version.
Price includes 2nd class delivery
Read More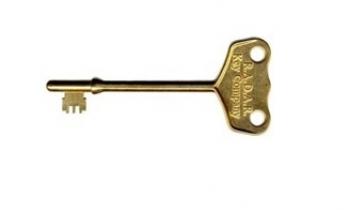 Radar Key
If you have a health condition or disability, finding an accessible toilet that's clean, tidy and available for you to use can be a challenge, and they are often kept locked.
Under Radars scheme, special locks are installed in public disabled toilet doors to give people with health conditions and disabled people priority access. Local authorities have adopted the scheme and Radar toilets can now be found in shopping centres, pubs, stores, bus/train stations and many other locations nationwide.
The key gives you independent access to locked public toilets around the country. This means that you don't have to wait for a member of staff to unlock the toilet meaning you are in control and can access the toilet quickly.
Purchase your radar key today
Price includes 2nd class delivery
Read More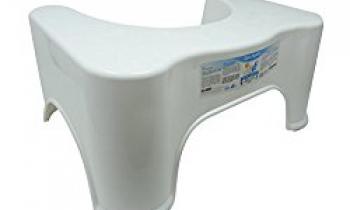 Squatting toilet stool
Human beings are meant to relieve themselves in a squatted position - this is how our ancestors in ancient times did it and it`s how our bodies are to do it today.
Squatting Toilet Stool 9 inch by Derma Medico ® | Non-Slip Bathroom Step Up Stool | Relieves Constipation, bloating | Aligns the Colon for Faster, Easier Relief | Proper Toilet Posture for Healthier Results | The better way to go with SOOO SQUATTY Toilet Squat Stool
Read More
Air Wick VIPoo lemon Idol Spray
Each bottle has up to 100 uses,300 sprays
When you are out and about and need to use a public toilet, helps to trap those smells in the bowl, a proactive odour protection
Simply spray in the bowl before taking your seat
Christmas cards
Eight cards, two designs, featuring two easy to make recipes that are specially developed for the sensitive gut.
Buy now and get the Christmas shopping started early.
Price includes 2nd class delivery
Poo Pourri Original Toilet Spray 59 ml
A secret blend of essential oils & other natural compounds that eliminates bathroom odours by creating a protective film on the water's surface. Spritz the bowl before you go and no one else will know
Duftz Sandlewood and orange odour blocker toilet fragrance
Bad odours are captured below the surface of the water in your toilet. To achieve this, simply spray duftz® onto the water in your WC before using the toilet.
Soapopular hand sanitiser spray
Soapopular hand sanitizer is fast drying, non-stinging, and will leave your hands fresh and clean with no sticky residue. Alcohol free and travel size.
4 pack, 10ml each
THEYE hand sanitiser spray
The bottle is only the size of a Credit Card but holds 18ml of product giving over 300 sprays. Perfect to carry in your pocket for when needed.
3 pack, 18ml each.
Clinell hand and surface sanitiser spray
Provides a quick and easy way to disinfect everyday hard surfaces such as toilets, bathrooms, baby changing tables, as well as sanitising your hands. No need for soap and water, it is ideal for carrying with you at all times. (100ml).
Eco-fabric deodorising men's underwear
Made with Eco-fabric which is made from nano-particles of bamboo-charcoal. Deodorizing and Antibacterial.