Receive two months of FREE Alflorex
13th May 2020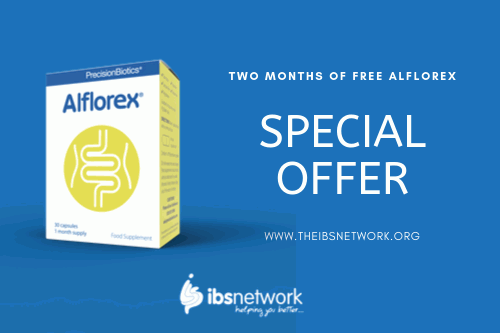 Offer ends 28th August 2020
The IBS Network has partnered with Alflorex to offer two months of FREE Alflorex probiotic (worth £49.90) when you join or renew your membership to The IBS Network.
The IBS Network is the national charity helping people to live well with irritable bowel syndrome, a long-term condition which affects around 12 million people in the UK. Symptoms include abdominal pain, bloating, constipation and diarrhoea. IBS is different for each individual and can be triggered by food, stress and anxiety.
Alflorex contains the unique 35624 bacterial culture, clinically tested by leading scientists and gastroenterologists to help create a healthy gut environment. In clinical trials, the special formulation has been shown to reach the gut alive.
Join The IBS Network today from £24 per year and receive two consecutive months of FREE Alflorex (worth £49.90). The offer is limited to the first 2000 new or renewing members.
This offer is open to all new and renewing members paying a one-off payment of £24 or £34 for one year's membership.
Once you have joined a welcome pack will be sent to you via the post with all the details of how to claim the offer.
Join or renew your membership here.
The full terms and conditions are available here.