What We Offer To Our Members
At The IBS Network we work hard to deliver the support people living with IBS need.We offer practical advice and help so that people do not feel isolated and alone but part of a caring community. We understand the challenges that living with IBS brings.We listen. We take you seriously.
The charity receives no government or NHS support so to enable the charity to continue ,we need to ask for an annual donation of £24 per year(£2 a month) for an online member and £34 (£3 a month) for a paper member per year, (if you want to receive the quarterly magazine by post). To pay by direct debit please contact the office; info@theibsnetwork.org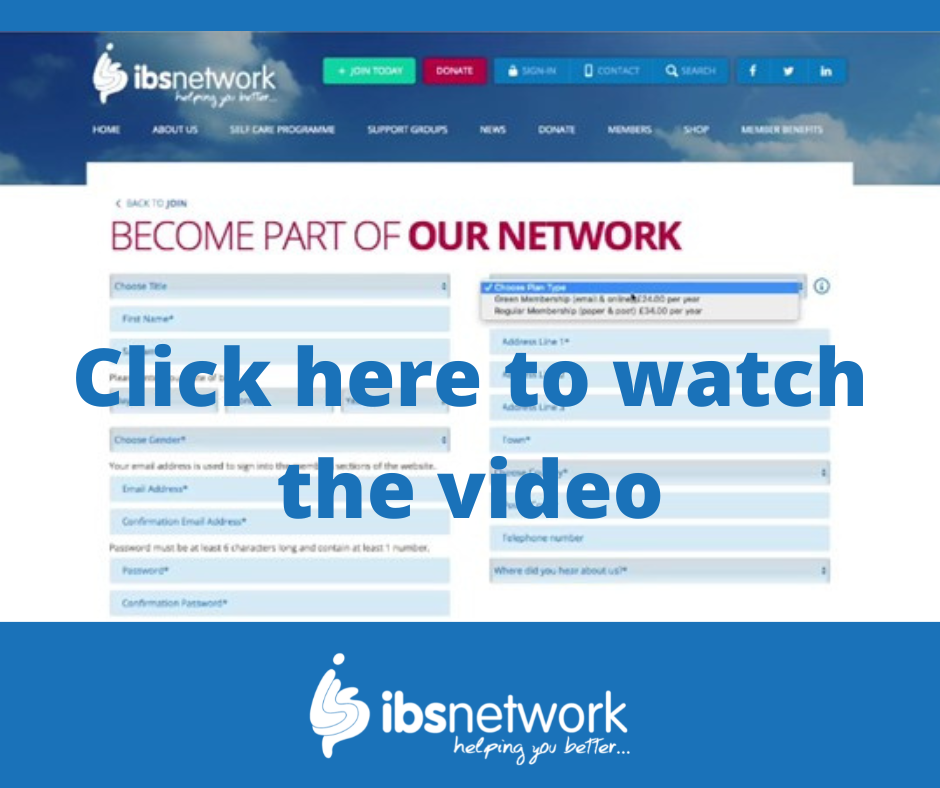 Benefits to joining our community include:​
access to reliable information from trusted IBS specialists;

our Self-Care Programme provides you with comprehensive information about the nature, causes and management of IBS that you can tailor to your IBS Online only

symptom Tracker, which will help you to manage your condition. Similar to a diary, the symptom tracker allows you to keep a record of your symptoms which can help you to see if there is a pattern over time and can help you to understand your condition better Online only

our 'Ask the Experts' facility, personal one to one contact through our website with our healthcare professionals (including gastroenterologists and dietitians);

specialist IBS nurse Helpline;staffed by nurses trained in the symptoms of IBS- Tue, Wed, Thurs 7pm-9pm;

a range of detailed factsheets, such as Medications, Stress,diarrhoea and constipation; paper members on request

our quarterly magazine-Gut reaction;published in March, June, September and December, filled with new research, recipes, articles written by our medical professionals and people's stories

our monthly enewsletter-Relief; Online only

our recipes updated monthly, specifically designed to be suitable for the sensitive gutour recipes are updated monthly and are specifically designed to be suitable for the sensitive gut. There is a range of recipes, some may not be right for you due to your own triggers; we cater for everyone as IBS is different for everyone; Online only
a 'Can't Wait' card and travel version translated into 12 languages (£5 value) sent in your welcome pack;
F.A.Qs
I do not have/want PayPal account, is there another way to pay?
You do not need a PayPal account to pay for 1-year membership or shop purchases. You can pay by Credit/Debit Card and check out as guest.
The option for Credit/Debit Card payment is underneath the PayPal log in details. (You are required to have a PayPal account to have a yearly subscription, as this is a service PayPal provides).
Though PayPal will still process the payment, you do not need to create an account with them to complete the payment. To pay by credit or debt card make sure you select the 1 year only option.
Alternatively, you can pay over the phone, our office number is 0114 272 32 53. Please bear in mind that due to the current circumstances there is only one person in the office, if you are unable to get through, please leave a voicemail and someone will get back to you.
Can I pay monthly? No, we no longer accept monthly payments.
Can I set up a Direct Debit instead?You could also set up a Direct Debit, in which you can pay £24 for online membership and £34 for a paper membership annually. If you would like to set this up, please email us at info@theibsnetwork.org or download the direct debit form and membership form complete both and return to The IBS Network
I have placed an order, but it did not take my address.If you have paid with a PayPal account there will be an address attached to your account, please check it is the correct address in your PayPal account. If it is not correct, please let us know as soon as possible, to avoid lost orders.

I would like to join on behalf of my child.

We currently do not offer support to people under the age of 18. The IBS advice given to a developing child is hugely different to the IBS advice given to fully-grown adults.

Overseas Members -Please be aware that all offers are only available to UK members and welcome packs are not sent to overseas members.(Anywhere outside the UK)
Professional Email Response Service
Send emails through our Ask The Experts box for professional advice on any aspect of IBS.
Medical Helpline
Our trained nurses are specialists in IBS and available on Tuesday, Wednesday and Thursday evenings.
Gut Reaction
Our regular quarterly magazine is full of up to date information and advice.
Can't Wait Card
Showing this to a member so staff will enable you to gain access to toilets in offices and stores in the UK and throughout the world.
The Symptom tracker
Is included in our IBS Self Care plan and helps you keep track of when your IBS flares up and whether this is related to any life event or change in diet.
Self Help Groups
Membership of the IBS Network enables you to gain access to Self Help Groups throughout the UK as well as logistic support, advice and training to set up a self help group in your area.
Help us Campaign for you
By joining us The IBS Network, you will be helping us campaign to improve medical services for IBS, ensure access to public toilets, fight discrimination and create awareness of this hidden ailment that is so little talked about.
The Symptom tracker
Is included in our IBS Self Care plan and helps you keep track of when your IBS flares up and whether this is related to any life event or change in diet.
Join our Community
By becoming a member of The IBS Network you will become part of a powerful community of support.