Webinars to help you live well with IBS
8th September 2022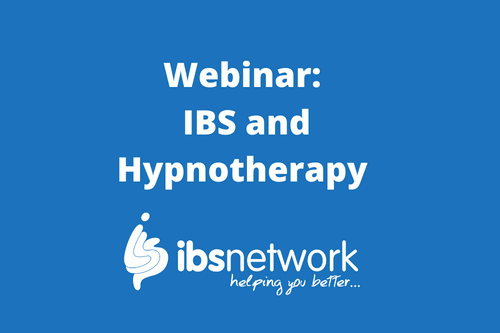 As you will be aware, over this year, we have offered you the opportunity to be involved in a number of webinars to help you understand and better manage your IBS. Over the coming months and years our aim is to build a library of webinars focusing on particular topics or symptoms around IBS for you to use as a handy reference.
If you missed any of them, you can catch up at your own convenience as they are now available to buy in our online shop.
Members can purchase the webinars for £5 and non-members for £15.
So far you can choose from:
'What can I eat?' with registered dietitian Laura Coster
'What can I eat?' is the question that most people with IBS would like answered.
IBS specialist registered dietitian Laura Coster talks about managing IBS through diet, and how using the approach 'what can I eat?' will help you better manage your IBS.
The webinar will assist you in developing strategies to help you find out exactly what you can and can't eat.
Stress, Anxiety and IBS with mental health and wellbeing adviser Mike Lawrence
The webinar focuses on strategies to help you manage your IBS symptoms of stress and anxiety, enabling you to live better with IBS during these continued challenging and uncertain times.
Hypnotherapy and IBS with hypnotherapist Sophie West
Have you ever tried hypnotherapy to help manage your IBS? Or have the many myths surrounding the therapy deterred you?
Sophie West, a highly qualified and experienced hypnotherapist and talking therapies adviser to The IBS Network, discusses how hypnotherapy can help people living with IBS.
For many years, Sophie struggled to manage her own IBS, but then she tried hypnotherapy, and it changed her life. Better understanding and feeling in control of her IBS, she trained as a hypnotherapist so she could help others.
Sophie uses her expertise by blending Clinical Hypnosis, Neuro-Linguistic Programming (NLP) and Cognitive Behaviour Therapy (CBT) to help people make significant changes in a relatively short time.
Sophie works with clients suffering from a range of long-term conditions, including IBS, stress, anxiety, depression and addictions. Her informed approach uses the latest scientific research to advantageously create effective sessions which helps to replace unwanted thoughts or behaviours with more positive ones.
If you want to learn to better manage your IBS and make changes in your life, this webinar is for you. Also included as part of this webinar is a free 30-minute relaxation exercise, which we will send you separately when you purchase the webinar.