New Summer Travel packs available now
14th May 2019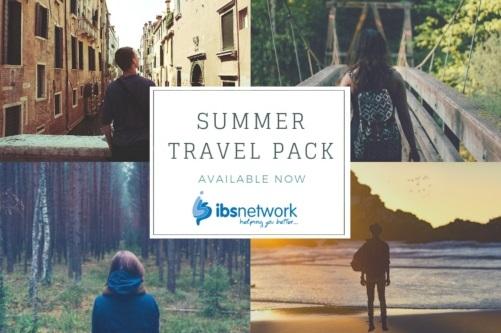 Worried about managing your IBS on holiday this year?
Our Summer Travel packs are designed to help you better manage your IBS this holiday season.
They include a wellness diary, Bimuno Travelaid for targeted digestive nutrition when travelling, a Can't Wait Card including international travel card, and a pack of five coin towels.
The diary will help you: understand your IBS symptoms better; plan your weekly meals; record what you have eaten; log what has been happening in your life; and identify patterns that emerge.
Bimuno's Travelaid are easy to chew pastilles, specifically designed for when you are travelling. More information is avaible on the Bimuno website.
The Can't Wait Card helps you gain access to toilet facilities when you need them most. Please present your card in public places or stores and ask if you can use their toilet. The same size as a bank card, the card can be hidden discreetly in your wallet or purse and can be produced quickly when you are needing access.
While the card is not guaranteed to give you access to toilets, the cards are widely accepted and acknowledged in the UK. When you are travelling use the international travel card which has a variety of translations of the Can't Wait message.
The compressed mini towels are available in a pack of five. Simply, add water for a quality tissue. They are easy to carry anywhere. Pop it in your pocket, it's the size of a one penny coin.
BUY YOUR SUMMER TRAVEL PACK TODAY (worth £26.19) for just £14 including postage and packaging.