Coronavirus and IBS Frequently Asked Questions
25th March 2020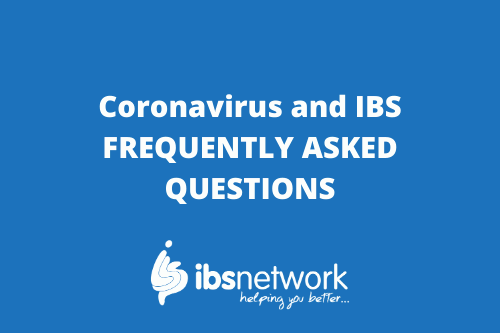 We have been asked how coronavirus may affect people with IBS. Here we answer some of your most frequently asked questions.
Does having IBS put me at increased risk from coronavirus?
There is no evidence to suggest that having IBS alone makes people more likely to catch coronavirus or have more severe symptoms. For most people, coronavirus causes mild symptoms, and they recover quickly after a few days.
However, some people with IBS may have other conditions that may put them at higher risk.
Public Health England has issued guidance on which conditions can increase risk of severe illness from coronavirus. The NHS in England is directly contacting people with these conditions to provide further advice. A list of these conditions is available on the government website here.
If you do not usually get the flu jab on medical grounds, then you are unlikely to be at increased risk of severe symptoms from coronavirus. However, it is still important to follow official advice on avoiding catching and spreading coronavirus.
What's the advice for people with IBS?
The advice for people with IBS is the same as the general advice from Public Health England and the World Health Organisation. The most important steps that you can take to protect yourself and prevent the spread of COVID-19 are:
wash your hands regularly and for at least 20-seconds;
cough and sneeze into a tissue and dispose of it immediately; and
avoid touching your face.
What do I do if I think I have coronavirus?
The NHS website has advice about what to do if you think you might have coronavirus. This is being updated frequently.
Does having IBS mean I should isolate for 12-weeks?
Not unless you have another condition which can increase risk of severe illness from coronavirus. See the government recommendations above.
Will the coronavirus situation lead to shortages in getting my IBS medication?
Medicines should continue to be available, even if there are temporary disruptions to the supply chain. If you are concerned, we recommend you contact your local pharmacy.
The stress and anxiety about coronavirus is making my IBS worse. What can I do?
Stress and anxiety triggers some people's IBS symptoms. With the outbreak of coronavirus (COVID-19) in the UK, it's understandable that you may be feeling more stressed and anxious than normal. In this blog post, we explain how to stay calm and better manage your symptoms of IBS during this difficult time.
I need IBS advice but I'm reluctant to contact the NHS at this time of crisis.
Members of the charity may call the IBS Helpline for help and advice. The helpline is open Tuesday, Wednesday and Thursday evenings 7pm until 9pm.
Members may also access our team of medical professionals including gastroenterologists, dietitians and complementary therapists through the Ask the Experts online service. Find out more here.
I feel so alone. What can I do?
You are not alone. We are here to help and support you at this difficult time. Please stay in touch with us.
We are developing further resources to help you and will be posting updates on our website and emailing our community.
You can sign up to our newsletter here.
Sign up to our supportive Facebook community here.
Coronavirus, our support for you. Read more here.